When Tragedy Hits — Role-Playing a Breaking News Story
Students use a case study based on the mass shootings at Virginia Tech on April 16, 2007, to explore the range of journalism and ethics issues that coverage of the event raised.
Oh no, you're missing out on great content!
This content contains copyrighted material that requires a free NewseumED account.
Registration is simple — and comes with full access to videos, artifact, interactives, shareable content, and more.
Sign Up
?
NewseumED is provided as a free educational resource and contains copyrighted material. Registration is required for full access. Signing up is simple and free.
Once you create a free account, 
you'll have access to:
Downloads
Videos and Artifacts
Interactives
and more!
Duration
More than 90 minutes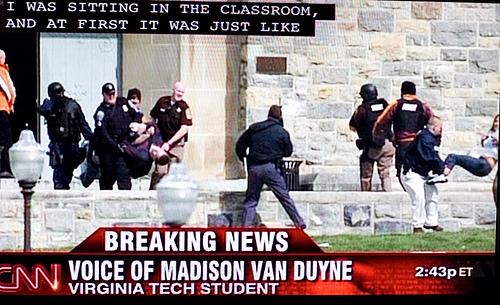 This role-playing exercise off the Virginia Tech massacre is to help students understand how seemingly simple decisions about media coverage can take on major significance as a story unfolds. It encourages students to explore the complex interaction and multiple perspectives among media, the public, law enforcement officials and others when an important news story breaks. Note: You may decide that it is too difficult for some students, especially young ones or others who may have a personal connection to this or similar tragedies.
Review the selected case study (download When Tragedy Hits - Teacher Overview), handouts and background materials on Pinterest.
Make enough copies of Setting the Scene to allow each student to read the material and understand the basics of this activity.
Cut apart the role cards and place them in a hat or bowl.
Divide the class into six groups and ask one member of each group to draw a role card
Once the students are familiar with their roles, have them read Setting the Scene.
Read each installment of the scenario and discuss the questions, giving each group a chance to respond.
When Tragedy Hits - Setting the Scene handout (download), one per student
Role Cards (download)
When Tragedy Hits - Scenarios (download)
NewseumED Pinterest board (optional)