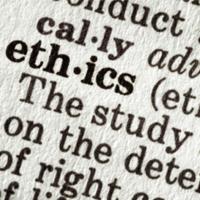 Media Ethics: Fairness Formula Starts With Accuracy
This activity examines a recipe for good journalism: Accuracy + balance + completeness + detachment + ethics = fairness.
Oh no, you're missing out on great content!
This content contains copyrighted material that requires a free NewseumED account.
Registration is simple — and comes with full access to videos, artifact, interactives, shareable content, and more.
Sign Up
?
NewseumED is provided as a free educational resource and contains copyrighted material. Registration is required for full access. Signing up is simple and free.
Once you create a free account, 
you'll have access to:
Downloads
Videos and Artifacts
Interactives
and more!
Have students read "Fairness Formula Starts With Accuracy," by Charles L. Overby.
Students then should complete the worksheet.
Have students share their responses and look for similarities and differences in their answers. Is there agreement on good standards?
"Fairness Formula Starts With Accuracy" and Fairness Formula worksheet (download), one per student  
Common Core State Standards: CCSS.ELA-LITERACY.CCRA.R.1

Read closely to determine what the text says explicitly and to make logical inferences from it; cite specific textual evidence when writing or speaking to support conclusions drawn from the text.