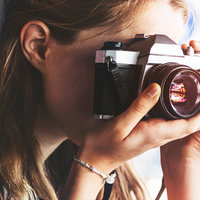 Photo Ethics: News Independence
This case study explores challenges a student photojournalist faces in being accurate, fair and clear.
Oh no, you're missing out on great content!
This content contains copyrighted material that requires a free NewseumED account.
Registration is simple — and comes with full access to videos, artifact, interactives, shareable content, and more.
Sign Up
?
NewseumED is provided as a free educational resource and contains copyrighted material. Registration is required for full access. Signing up is simple and free.
Once you create a free account, 
you'll have access to:
Downloads
Videos and Artifacts
Interactives
and more!
Duration
Less than 30 minutes
Divide students into small groups.
Tell your students: One of the basic principles that guide a free press is that the press has a commitment to the truth. It reports news; it does not make news. It should maintain an independence from those it covers.
Have students read the scenario and discuss the options.
Encourage them to come up with a consensus on the action they'd take. 
Have each group share their decision and explain their reasoning. Did they find other groups' arguments compelling? Why or why not?
News Independence case study handout (download), one per small group
Common Core State Standards: CCSS.ELA-LITERACY.CCRA.SL.1

Prepare for and participate effectively in a range of conversations and collaborations with diverse partners, building on others' ideas and expressing their own clearly and persuasively.
National Council of Teachers of English: NCTE.12

Students use spoken, written, and visual language to accomplish their own purposes (e.g., for learning, enjoyment, persuasion, and the exchange of information).